RJAM Enterprises
Wreaths for all Seasons
All wreaths are hand made and no two are ever alike. Wreaths are made when order is placed and will be shipped out within 5-7 days after receipt of payment.
These artificial Canadian pine wreaths are about 18 inches in diameter. If you are interested in smaller or larger wreaths, please let me know in the comment section of the order form. The price will vary depending on the size and design of the wreath.
With proper care, these wreaths could last a lifetime and could be handed down from generation to generation.
Below are some samples of wreaths previously made.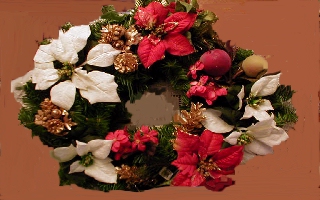 Style no. ARM0001
Price: $45.00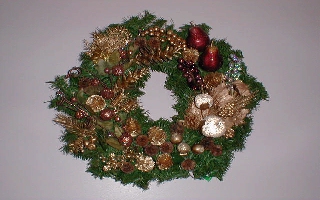 Style no. ARM0002
Price: $50.00
Payments are due prior to shipping the wreaths. Please add $5.20 per wreath for regular mail and handling fees or $13.75 per wreath for expedited mail and handling fees. For all Vermont residents, please add sales tax of 5% to each wreath ordered.
All wreaths are priced at $35.00 and up, fully decorated. I can custom make a special wreath and price will vary depending on the design. Please supply detailed information for custom made wreaths.
To avoid delay in shipping, please send a certified check for the wreath and postage.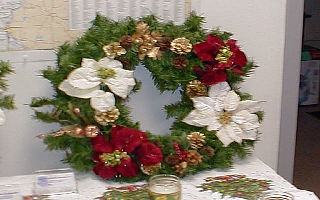 Style no. ARM0003
Price: $35.00
Style no. ARM0004
Price: $40.00
For those who would rather order and pay with a personal check or money order, please go to ORDER FORM and print it. Mail the order form with complete payment to the address shown. Thank you!
There will be more designs coming soon. I am currently designing wreaths for New Year and Valentine. I will post them up as soon as I am finished. Please check back soon!!! Thank you for your interest.